Cancer has a big effect on our society. According to the National Institutes of Health, there will be 1,735,350 new cancer cases diagnosed this year. There will be 609,640 deaths because of the disease. Some of the most common kinds of cancer are breast cancer, lung cancers, prostate cancers, colon and rectal cancers, melanomas of the skin, bladder and kidney cancers, leukemia, and non-Hodgkin's lymphoma. Even if your cancer is diagnosed in the early stages and is very treatable, you might find yourself unable to work because of the side effects of your treatments. You may want to apply for Social Security Disability benefits.
What Happens When You Are Approved With Cancer?
When your claim for disability benefits because of your cancer has gotten approval, you will get monthly benefits starting from the 6th month were considered disabled. The treatments for cancer can cause you to be unable to work, and often, there are lasting side effects from the treatments. Radiation or chemotherapy can result in fatigue, nausea, weakness, poor coordination, memory loss, and difficulty concentrating. You will need to provide your medical records, which should detail your symptoms, side effects, limitations, and restrictions.
Back Pay And Cancer
If you are unable to work because of cancer and file a disability claim, it can become a challenging process. Hard medical evidence is a necessity for a successful disability claim. You must have a detailed list of your medical providers, such as clinics, hospitals, specialists, and labs. Be sure to include the name, address and phone number, and service dates. Your cancer disability claim may be eligible for backpay, which will go back to the date that you originally filed for disability. The backpay will continue until your claim was approved. After disability approval, you will most likely receive backpay within 60 days.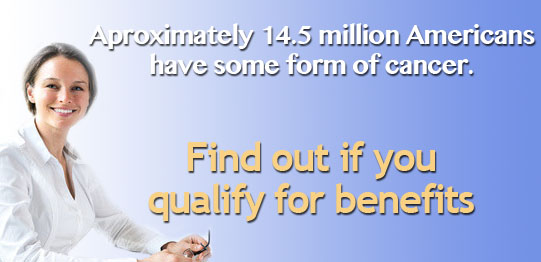 Retroactive Payments For Cancer
Some disability claimants receive retroactive disability benefits. Retroactive benefits can date as far back as 12 months before you filed your claim. You must show you were disabled because of cancer before you filed. Retroactive payments only apply to the timeframe in which you were unable to work because of your cancer and just so long as your condition met the SSA guidelines. To receive retroactive benefits because of your cancer disability claim, you must provide supporting documentation to indicate that your disability was in existence for a minimum of 5 months before you applied.
How To Calculate How Much You Could Receive With Cancer
How much you paid into Social Security taxes plays a major role in how much you receive for disability benefits. The SSA will review your earnings history and review the amount of taxes you paid. They will then determine your average indexed monthly earnings (AIME) so they can calculate your primary insurance amount (PIA). Your monthly disability benefits for cancer can be determined with those details and your age taken into consideration.
Applying For Disability Benefits
If you are unable to work because of cancer, apply for Social Security Disability benefits. You can file a disability application online at www.ssa.gov or start the process by calling 1-800-772-1213.
Return to A Guide to Cancer and Social Security Disability Benefits.
Additional Resources