Social Security Disability Benefits
If, for some reason, you suffer from a long-term or permanent disability that prevents you from being able to work, you can file a disability claim with the SSA in order to receive monthly Social Security Disability payments.
If your SSDI application has been denied by the SSA, do not give up hope. If you are denied SSDI, there are steps you can take to appeal the decision. You may still receive the disability benefits you need to make ends meet.
You just need to know what to do and where to turn. If your Social Security Disability claim is one of the 70 percent that are denied during the initial application process, keep the following advice in mind.
An overwhelming 70 percent of applicants are disappointed when their disability applications are denied by the SSA. What happens when a disability application is determined to be ineligible for benefits? Do these applicants need to find other ways to financially support themselves and their families?
Reasons a Disability Benefits Claim is Denied
Many applicants are denied disability benefits the first time they apply. Understanding why your claim was denied is important. It can help increase the success of your appeal because you will know what your claim was missing or where your claim can be approved.
When you are denied disability benefits, you will receive a denial letter in the mail. This letter will explain why your claim was denied as well as the next steps you should take to appeal the decision.
There are a variety of reasons a claim may denied. Here are some common reasons for a denied (SSDI) Social Security disability claim:
Lack of Medical Evidence: Often claims are denied because a claimant did not provide enough medical proof that the condition they are experiencing is severe enough to keep them from working. You will need to show that you cannot work for at least twelve months. To avoid lack of medical evidence in your appeal, look at the SSA's Blue Book listing for the condition you are experiencing. Make sure you have all the required tests, documents, treatments, etc. outlined for your listing.
Substantial Gainful Activity (SGA): If you make more than the given SGA (which changes yearly), you will not be eligible for benefits. Even if you meet a Blue Book listing, if your income exceeds these limits then you will not be eligible for benefits.
Not Following a Treatment Plan: If you cannot show that you have been following your doctor's orders for your condition, then you may find yourself being denied benefits. A treatment plan will help show a disability examiner that you cannot work because of the condition you are experiencing. Without a treatment plan, the examiner may have trouble establishing if your condition is impacting your work ability. If you are unable to follow your treatment plan for a specific reason, you should explain why in your appeal.
Ignoring Requests: The SSA may request new information from you in regards to your disability claim. The information or documents requested are to help make a decision about your claim. Ignoring these requests or not sending the requested information may result in a denial. Promptly sending the documents requested may help avoid a denial.
Refiling a Claim: If you are denied SSDI, refiling a new claim will not help you get approved for benefits. Your claim may end up being denied for the same reason. Instead, you will need to file an appeal.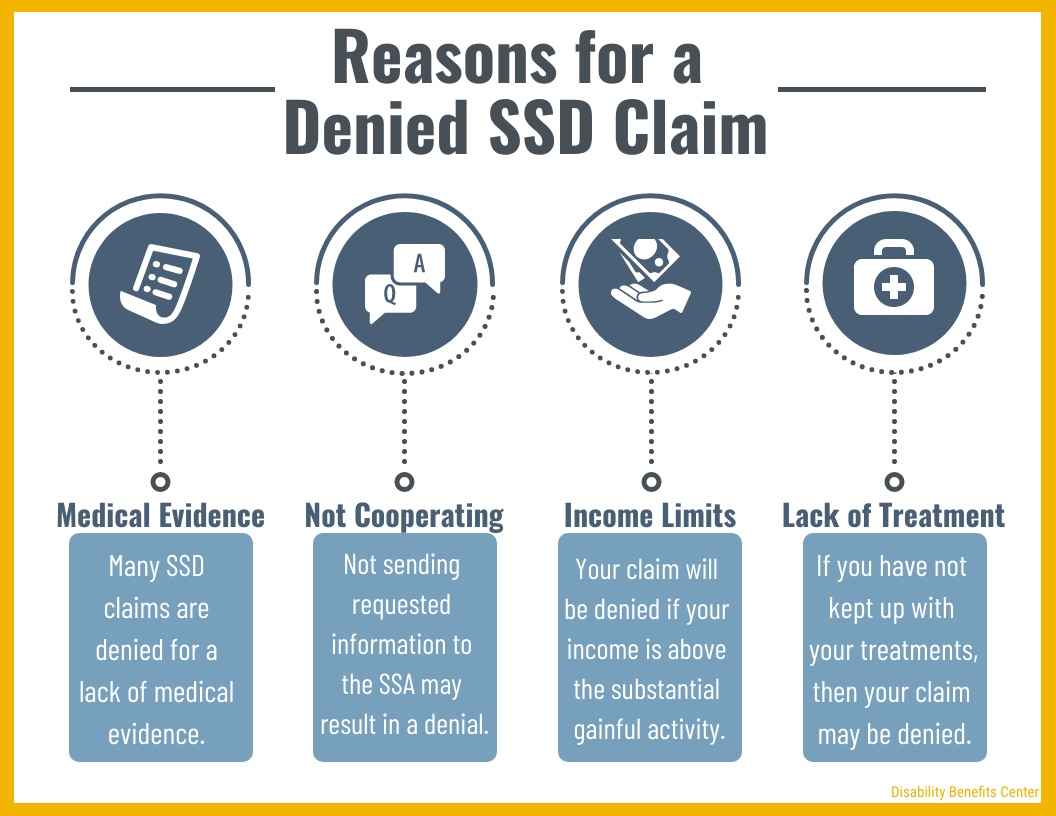 If your claim is denied and you file an appeal, here is what you will need to do:
1. Appeal the Denial
Many applicants make one of two mistakes after receiving a notice of denial from the SSA. Some will give up hope of receiving the disability benefits they so desperately need. Others will just try to re-apply for Social Security Disability benefits all over again. Neither of these choices is wise.
If your application for Social Security Disability benefits is turned down, giving up is never a good idea. A mere thirty percent of applications are approved at the initial stage of the disability application process, whereas more than half of the applicants who pursue the disability appeal process go on to receive Social Security Disability payments in the future.
Re-applying for disability benefits with the SSA is not the best course of action. While it is true that the appeal process takes longer than the initial application process, if you re-apply for benefits rather than pursuing the appeal process, chances are that your application will just be denied again and you will, eventually, have to endure the appeal process if you hope to receive Social Security Disability payments at some point in the future.

2. Know What To Expect In The Appeals Process
The first step in appealing the SSA's decision to deny your Social Security Disability benefits is to file a request for reconsideration. This is basically simply turning in the same paperwork again for another SSA representative to consider.
You may, of course, add any new or different information which you or your representative believes may have a bearing on your case and whether or not you'll qualify for SSDI.
Submitting Your Appeal
Having an experienced lawyer often makes all the difference at this stage. Sometimes, simply the way your representative will re-organize the facts regarding your disability can help get your claim pushed through and approved. Consider revisiting the Blue Book to make sure you have enough evidence to prove you meet the listing.
Along with any new medical evidence, you may also consider submitting a Residual Function Capacity (RFC) form. This form is to be filled out by a doctor. It will help demonstrate that you are unable to work. A doctor will describe your condition, your symptoms and its impact on your life.
An RFC is often helpful when you do not meet a Blue Book listing. This because an RFC will outline how your condition impacts your ability to do the job you were trained to do. It will also help show that you are unable to be retrained to work in another field or job.
Denied SSDI, But Approved For SSI
If you are an adult, there is generally only one way to have an SSDI claim approved but be approved for SSI. You must be insured by the SSDI program to receive SSDI benefits.
Your insured status is gained through your work history and the payroll taxes paid. When you pay payroll taxes, it is like paying insurance premiums toward SSDI.
After you have quit working, you usually have around five years before you lose your SSDI coverage.
If you meet the criteria of being disabled, but you do not have enough credits to be awarded SSDI benefits, but you do show a financial need and meet the specific criteria for SSI, you can be awarded SSI benefits.
Financial criteria include low income and minimal resources. You will need to provide proof of income and proof of any resources you have, such as car titles, property deeds, bank statements, and so forth.
It is possible to receive SSDI and SSI both at the same time. This is based on your work history and credits. If your SSDI benefits are not enough to surpass the income limits for SSI, you will receive SSI to supplement your income.
SSDI and SSI both have the same requirements to declare an individual disabled and to be approved.
As of 2021, a person must have less than $814 per month in unearned income to receive SSI. A couple can receive SSI if their unearned income is less than $1,211 per month during 2021.
Disability Hearing
More often, however, your claim will need to go to the next step, the disability hearing. During the hearing, an administrative law judge will listen to your explanation of why you should receive Social Security Disability benefits.
Often, the hearing will also include a medical expert, who will ask questions and advise the administrative law judge regarding medical matters and a vocational expert, who will advise the law judge regarding what types of work you may still be qualified to perform.
You are also allowed to bring witnesses. You should seek the advice of your representative regarding which witnesses to bring, or whether you should bring any at all. Every case is different, and in some cases, having witnesses testify regarding your disability will be helpful.
You may also present any new evidence or changes in your condition which may have occurred between the time of your initial application and now.
If the denial of your claim is upheld at the hearing, the decision will be sent to an Appeals Council. The Appeals Council consists of administrative law judges who were not previously involved in your case.
They will not consider any new evidence, but will make sure that the administrative law judge from your hearing followed the correct procedures and laws in rendering his decision.
After they have reviewed your case, they can concur with the hearing's findings, can overturn them (and award you Social Security Disability benefits) or they can send the case back to the administrative law judge for reconsideration with observations regarding any mistakes he or she may have made on your case.
3. Seek Out Legal Help
If you have been denied Social Security Disability benefits during the initial application stage of the application process, you should seek out help prior to filing an appeal.
Hiring a Social Security Disability attorney can significantly increase your chances of receiving a favorable decision during the disability appeal process.
Many people decide not to hire a disability lawyer because they feel that it is not within their financial means to do so. After all, legal help can be expensive and those who are applying for disability benefits are usually suffering from financial hardships.
The good news is that it does not have to cost you any up-front, out-of-pocket expense to obtain the legal services you need.
Social Security Disability lawyers work on a contingency basis, receiving a portion of the back pay that you are awarded by the SSA. When you hire a lawyer to represent you during the disability appeal process, your lawyer will receive either 25-percent of your disability back payment or $6,000 (whichever is less).
This not only makes it affordable to hire the legal representation you need, but it also gives your attorney some personal motivation to win your disability case, since they do not get paid if you are nor awarded benefits.
If you are one of the 70 percent of applicants who have been denied disability benefits, the good news is that nearly two-thirds of applicants are awarded benefits at their disability hearing. Statistics show that your chances of winning your appeal are significantly increased when you have a lawyer representing you at this hearing.
Remember, you only have 60 days from the date you receive your determination letter from the SSA to appeal the decision to deny your benefits. If your claim for benefits has been denied, contact a Social Security Disability attorney as soon as possible to begin the disability appeal process.
Additional Resources