If you are unable to work because of a medical problem, you might qualify for Social Security disability benefits. The Social Security Administration (SSA) administers two disability programs that pay monthly benefits to individuals who meet the criteria to qualify for disability. SSDI, or Social Security Disability Insurance, is based on your work history and past earnings.
The SSA calculates SSDI benefits based upon the quantity of income you earned and the amount of taxes you paid towards Social Security. Your average income is used to determine Average Indexed Monthly Earnings, or AIME. The SSA uses your AIME to calculate what is referred to as a PIA, or Primary Insurance Amount. If you use the disability calculator, it will help you determine how much you will receive in monthly disability benefits.
How Disability Benefits Work
Your SSDI benefits are based on the amount of income on which you paid Social Security taxes. The PIA is determined by 90 percent of your AIME that falls below $816 then 32 percent of your AIME from $816 to $4,917 then 15 percent of your AIME in excess of $4,917. The ultimate PIA is the highest amount you are eligible to receive in SSDI benefits.
If you are receiving SSI (Supplemental Security Income) instead of SSDI, it is needs-based. It isn't dependent on your work history. Instead, the highest amount of benefits a disabled individual can receive from SSI per month is $771 per month while an eligible couple could receive up to $1,157 per month. If you receive any kind of income, any sum you earn in excess of $85 per month is subtracted from your maximum benefit amount to determine how much SSI you will receive.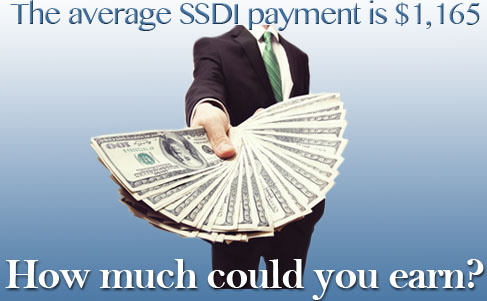 The Disability Application
To apply for disability benefits from the SSA, you will need to complete an application. The application must be filled out in detail and you must provide supporting evidence – specifically hard medical evidence – that indicates you are unable to work and that confirms your condition. Your medical records should include your diagnosis, any symptoms and side effects, and restrictions and limitations.
Often, disability claims are denied. In that case, you will file a request for reconsideration. You will provide additional information in support of your case so Disability Determination Services can give your claim a fair review. The last step is to request a hearing before an administrative law judge who will then decide if you meet the requirements to be approved for disability benefits.
There are three different ways to get your disability application underway. You can start the process online on the SAA's website (www.ssa.gov), call 1-800-772-1213 to start the process over the phone, or call and schedule an appointment at your nearest SSA office. Claimants who are represented by a disability attorney are much more likely to be approved for disability benefits, so schedule a free case review today.
Additional Resources