Supplemental Security Income (SSI) is a government program designed to help those lacking financial resources. SSI, like Social Security Disability Insurance (SSDI) is overseen by the Social Security Administration (SSA). However, the requirements to qualify for SSI slightly differ from SSDI.
As one of the most important safety net programs run by the Social Security Administration (SSA), Supplemental Security Income (SSI) offers qualified American citizens and lawful residents financial assistance to help them pay for daily expenses. Having a limited income and resources is just one of the criteria that answers the question, "Who qualifies for SSI." You also have to meet a minimum age standard or qualify for SSI by proving you suffer from a disability such as blindness.
SSI – How to Qualify
If you are at least 65 years old and meet the standards established by the SSA for limited resources and income, then you might be one of the people who qualifies for SSI. Anyone who is younger than 65 years old, but can prove they suffer from a disability like blindness might be eligible for financial assistance under the SSI program as well.
For blind applicants, you must demonstrate that the vision out of your better eye is not greater than 20/200 or the perimeter range of your better eye is not more than 20 degrees. Proving you suffer from another type of disability meets you have to meet the medical guidelines created by the SSA.
Where SSI differs significantly from SSDI is that the main criteria for disabled individuals to qualify for SSI is a demonstrated financial need. SSDI, on the other hand, is based upon each individual's time spent working and how much income they made on average.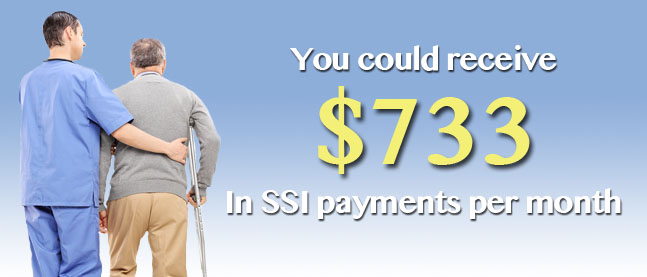 To qualify for SSI, you must have less than $2,000 worth of net value (the value of all your possessions added up). The car you drive (one vehicle) and the house you live in are exempt and are not factored in to your personal possessions when determining your net worth.
Assuming you are less than 65 years old, you will need to prove that you are disabled to qualify for SSI. If you are blind, this is relatively easy. If you have other disabilities, you will need to prove that you are disabled according to the SSA's definition of long term disability. The standards used to determine whether you are disabled include:
Complete inability to perform any kind of work which you have ever done in the past.
Must be deemed incapable of being reasonably trained and accommodated to perform any work available in the area.
Must have a disability which is likely to last more than a year or result in your death.
If you do qualify for SSI on the basis of your disability, you can expect to have a continuing disability review periodically. The SSA will determine, based upon medical reports from your doctor (and sometimes their own medical experts) whether your disability has improved to the point which would enable you to perform any substantial gainful work activity. If the SSA determines that you have adequately recovered from your disability, you will be disqualified for ongoing Social Security Disability benefits.
How Do I Prove a Disability?
The SSA publishes a medical guide called the Blue Book that lists the medical conditions that qualify applicants for SSI benefits. Not only must you suffer from an illness or injury that is listed in the Blue Book, but you also must meet the severity of symptoms guidelines that are associated with each type of disability. For example if you have received a cancer diagnosis, the Blue Book lists the severe symptoms of the disease that include the side effects of radiation and chemotherapy treatments.
What Are the Resident Rules?
The easiest path to receiving SSI assistance is to prove that you are a United States citizen. A photo identification card like a driver's license and a Social Security card represent the two post common types of documents that confirm American citizenship. You might also qualify for SSI eligibility if you can demonstrate that you are a lawful resident of the United States.
The criteria for establishing lawful residency includes not being away from the United States for 30 consecutive days and not receiving any other type of financial assistance from the federal government. You also must reside in one of the 50 states, the District of Columbia, or the Northern Mariana Islands.
Knowing how to qualify for SSI is one thing. Applying for financial assistance under the SSI program is quite another thing. First, you must meet the deadline for filing a claim as established by the SSA. A Social Security lawyer can ensure you meet the deadline for filing the paperwork required to receive SSI financial assistance.
Before you apply for SSI, make sure to organize the medical records you need to prove you suffer from a disability such as blindness. Records of diagnostic tests are especially important to submit along with your SSI application.
You may apply for SSI benefits online or over the phone, though most apply in person at their local Social Security office. The alternative to filing in person is to submit a claim online or schedule a phone appointment by calling 800-772-1213. You are allowed to have a lawyer or other Social Security Disability representative for all stages of the disability application and appeals process.
Approximately 70 percent of claims are denied when they are first processed. Don't allow this to discourage you from seeking SSI benefits. If you are disabled according to the SSA's definition and have sufficient financial need (again, as determined by the SSA) your claim may be accepted during the appeals process.
After your initial claim is denied, you can begin the multi-tiered appeals process. The steps are as follows:
Hire a Social Security Disability Attorney
Many claimants find that working with a qualified Social Security Disability attorney is helpful throughout the process of applying for disability. A lawyer will be able to point you in the right direction regarding what kind of Social Security benefits you likely qualify for. Statistics have shown that your chances of being awarded benefits are higher when you qualified legal representation.
Additional Resources